The BaByliss blow dryer come in numerous models. Shapes, sizes, colors, as well as accompanied by various attachment accessories. The overall rating of these products is substantially outstanding. However, the small percentage of complaints are of dire issues. Although BaByliss PRO has satisfied most of their customers.
The hair dryer manufacturer still has some ways to go, for the unsatisfied customers always complain about the same problem. And these problems are of great nature. We will go over some of these products so you can decide for yourself. BaByliss PRO does provide a quality product, but when they do not, the outcome is disastrous.
Compare Best Babyliss Blow Dryers
Chances are if you have purchased any model of hair dryer that BaByliss PRO has produced. Then the chances are high that you have experienced a great product. Take a look at some of the best Babyliss blow dryer available in 2023. Let's start.
Top Picks for 2023
This review will guide you with information, prices, links for purchases, descriptions, and an unbiased review. Leaving your mind open to come to your own conclusion.
1. BaByliss PRO BAB2000 Ceramic Xtreme Dryer – Editor's Pick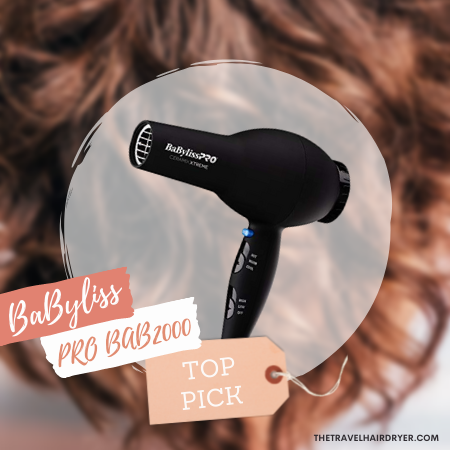 A mediocre noise was reported to emit from this hair dryer, categorizing it as not quiet. But not loud either. This dryer does come with the usual air condensing attachment nozzle and the revolutionary ceramic technology incorporated in the BaByliss PRO BAB200O Ceramic Xtreme Dryer. Available in a sleek, metallic black.
Has proven to be very gentle on hair, as no disputes were mentioned about damaged hair.
Most women recommended this powerful hair dryer to other women who have a lot of thick hair. One customer said that if you do not have a thick head of hair, then using this hair dryer may result in uncomfortable circumstances.
Yes, this dryer has it all, but like the rest of BaByliss PRO's high-tech hair dryers, this one came with its downfalls.
These faults included a low life span which was followed by disgruntled customers being ignored by the warranty offerings.
The most detrimental and reoccurring consequence proposed by the BaByliss PRO Ceramic Xtreme Dryer was that it would blow people's circuits, and I am not talking metaphorically either.
This dysfunctionality is of extreme importance to be aware of, for it is a detrimental electric hazard. No matter how good the reviews may be, and how prominent they reign, the chance of possible electric hazard does not sit well with many people.
Features And Benefits
Ionic and Porcelain Ceramic technology.
2000 watts.
6 Heat/speed settings.
Cold shot button.
Concentrator nozzle.
Removable filter.
2. BaByliss PRO Nano Titanium Travel Dryer – Best for Travel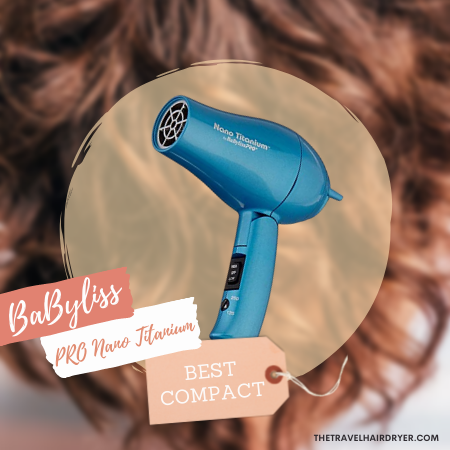 This travel dryer is praised for its small size, and the 6-foot professional chord that it comes equipped with. It so small, however, that some have found this to be more annoying than accommodating.
This quiet, dual voltage hair dryer, available in baby blue, has been called a "true hair dryer" considering its sheer power.
Complaints, although few, contradict with it being powerful, for some customers have found this model to not be powerful enough!
Preference seems to dictate this, concluding that the pros clearly outweigh the cons with the BaByliss Pro Titanium Travel Dryer.
Compact Design
It has all the features you'd expect from a big BaBylissPRO!
Features & Benefits
Ultra-lightweight design.
Folding handle.
Removable filter/stand.
2 heat/speed settings.
Powerfully Built
Nano Titanium technology.
1000 watts.
Dual voltage.
3. BaByliss PRO Nano Titanium Portofino Full-Size Dryer – Pick for Pros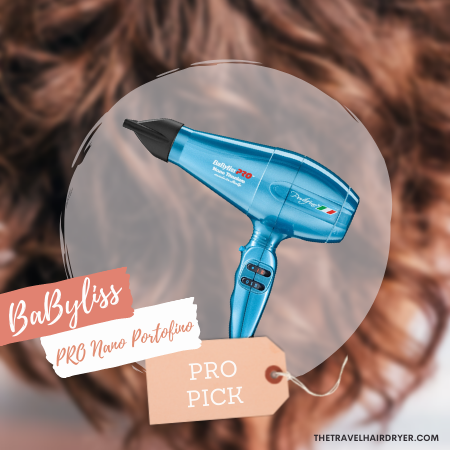 This hair dryer is heavy-duty performance-wise, but lightweight for the hands. It also comes in crisp sky-blue and deep metallic black.
Four attachments come with the dryer, a small, medium, and large air condensing nozzle as well as an Italian Series Slide-on Diffuser attachment.
The controlled heat on this dryer has been something every customer is talking about, and all words are those of pleasant.
The BaByliss PRO Nano Titanium Portofino Full-Size Dryer has gained a reputation for having very effective results with all types of hair, and it is said to be almost silent. But, complaints have sprung up about low life span, insufficient heat presentation, and, this is the bad one, a smoking motor.
The latter not only highly upset customers, but it places them in danger as well. Again, the accounts of displeasure are dwarfs next to the compliments and praises.
Features and benefits
Nano Titanium technology.
2000-watt Italian AC motor.
Ionic.
6 heat/speed settings.
Removable stainless-steel rear filter.
4. BaByliss PRO Tourmaline Titanium 5000 Dryer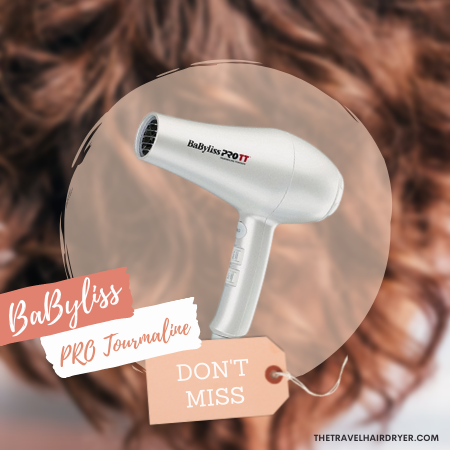 Accompanied by a condensing air nozzle attachment, this angel wing-white dryer is as professional as it gets, per the customers' accounts.
The BaByliss PRO Tourmaline Titanium 5000 Dryer does not damage hair, it is compactable, making it very convenient, and most have said that it is quite powerful.
The complaints on this dryer, though, are of high magnitude. Again, the motors have been known to "explode with sparks," as a hefty number of customers have relayed.
Their problem got worse, for BaByliss PRO, on multiple occasions, ignored the warranty requests, resulting in very unhappy customers.
Others proceeded to claim that the dryer was mediocre in power, again something that is fully based on preference.
Features and Benefits
Tourmaline Titanium technology.
High-torque, ultra-lightweight 1900-watt motor.
Ion generator.
6 heat/speed settings.
Easy-to-clean back filter.
5. BaByliss PRO Tourmaline Titanium 3000 Dryer
With an air condensing attachment nozzle included, the BaByliss PRO Tourmaline Titanium 3000 Dryer comes with a six speed, heat control, which brings smiles to all hair dryer users.
The color is a darkish red, and the high-tech dryer also has a cool button and a 9-foot cord; making this dryer the most professional grade dryer in the entirety of the BaByliss Pro Hair Dryers.
This dryer, unlike the others, had no complaints about life span, however customers did find themselves in a sticky situation.
The red, rubbery finish has been reported to melt many times. Resulting in a huge mess and ruined combs.
Some customers said that their BaByliss Pro Tourmaline Titanium 3000 Dryer came with a faulty and unusable air condensing attachment nozzle.
Features and Benefits
Tourmaline Titanium technology.
1900 watts.
Ultra-lightweight design.
6 heat/speed settings.
Cold shot.
Soft-touch rubberized finish.
6. BaByliss PRO Nano Titanium Bambino Compact Dryer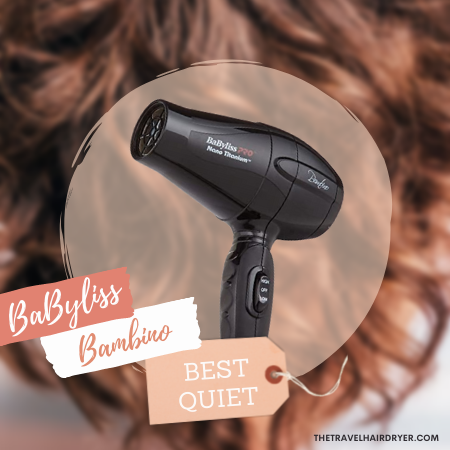 Coming in solid black, this hair dryer has been recognized for its quietness. Powerful performance and its perfect size.
The BaByliss PRO Titanium Bambino Compact Dryer also comes with an air condensing attachment for more controlled results. The downside to this hair dryer is that it has been complained to not working for very long.
In fact, one of the testimonials regarding this hair dryer, angrily shared that their Bambino died in the middle of the first use.
Features and Benefits
Nano Titanium technology delivers smooth and shiny finished styles.
Two speed and heat settings.
1000-watts.
Dual voltage.
Ultra-lightweight.
7. BaByliss PRO Turbo Dryer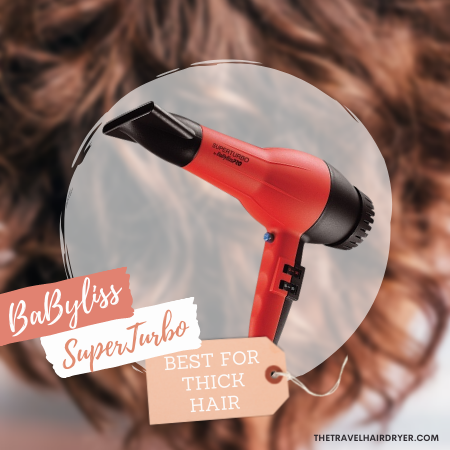 This bigger sized hair dryer is equipped with an air condensing attachment nozzle. And is highly noted for its low humming motor, saving the ears a lot of trouble.
Also, this dryer has a cool shot button, which is an asset to say the least. Speeding up the entire process while yielding great results. It has adjustable heat settings and has been said to work wonders on thick hair.
Although the BaByliss PRO Turbo Dryer has gathered many compliments. It has also been complained about. Iterating that the dryer is not powerful enough, and some customers also had received dryers with short life spans.
Buying Guide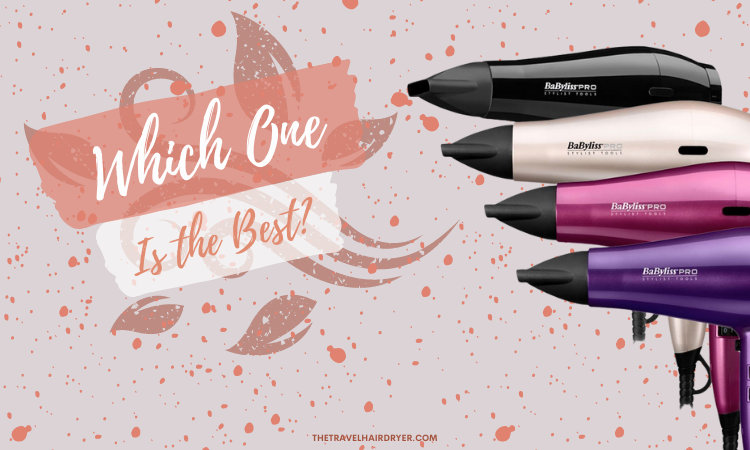 As we have reviewed the ten different hair dryers released by BaByliss PRO. We have a lot to think about. Now, on a large scale, all the products seem to meet the customers' needs in a satisfactory fashion.
Every hair dryer comes with at least an air condensing attachment nozzle, and in some cases, provides different sizes of this nozzle (small, medium, & large).
Two of the hair dryers, the BaByliss PRO Nano Titanium Portofino Full-Size blow dryer, the BaByliss PRO One and Only Brazilian Tech Dryer, and the BaByliss PRO Nano Titanium Torino, came with a full set of attachments, including the Italian Series slide-on attachment. We saw that most of the hair dryers proved to be loved by the majority.
To add, most of the hair dryers were reported to be quiet. Effective and recommendable to anyone who yearns for lucrative hair. Every customer always had something good to say regarding size, as it seemed to perfectly match their needs in most cases.
Overall, this hair dryer was a professional-grade hair dryer. However, as minuscule as they were, to deliver an honest and formidable review, one must look at the faults as well. There were not too many, but they impactfully stood out.
One common complaint was that customers would always get their hair dryer, and then it would die anywhere between one day of use and three months. Not only that, but BaByliss PRO was inadequate and irresponsible to ignore some customers' warranties.
The reason why I share these accounts is that these accounts are examples of negligent business. Though many complained about various other things, such as power or not enough heat from them, these complaints are more preference-based.
Conclusion
When weighing the pros and cons next to each other, it can get tricky. The pros are in greater number and prove to be awesome in results. The cons, however, are much, much less, but the accounts are beyond ridiculous and irresponsible. Although BaByliss PRO has been known to produce a lot of happy customers.
They do have a couple of loose ends to tie up, respectively saying. Overall, I would say that they provide quality hair dryers with a reliable product, as we have seen in most accounts. But, it does not matter what I think. What do you think?
Here are some other Babyliss hair dryers that should be mentioned: