Who does not want a fabulous hair day? Hairstyling tools are excellent for quickly styling your hair at home or just drying damp hair. Vacuum cleaner giants, namely Shark and Dyson, have forayed into the hair care sector by launching impressive hair dryer tools. Let us find out which of these two brands will give you the best value for money for your hair styling or drying needs.
Features of the Shark Hair Dryer
With a unique and beautiful champagne color, the Shark HyperAir is undoubtedly a high-end hair dryer in the market. It is compact and lightweight and closely resembles a standard hair drying tool.
It has a large barrel with an angled handle, and its power button is on the rear of the handle, while the cool-shot key is on the front. It is pretty easy to use and maneuver, owing to its design and weight. It also comes with two attachments, namely the concentrator and the diffuser, both of which can be customized to suit your hair type.
Features of Dyson Hair Dryer
The look of the Dyson Supersonic Hair Dryer is unique, and it comes in a gray color with Fuschia highlights. The brand also has a limited edition Prussian Blue design, which features a deep navy blue color inclusive of copper accents. It is super lightweight, so you don't have to worry about aching arms.
The ergonomic and compact device comes with five magnetic styling attachments, namely the diffuser, styling concentrator, smoothing nozzle, a wide-tooth comb, and a gentle air attachment for scalp care. All of them are easy to remove and connect themselves to the dryer magnetically.
Which is Best – Shark Hair Dryer Vs. Dyson Hair Dryer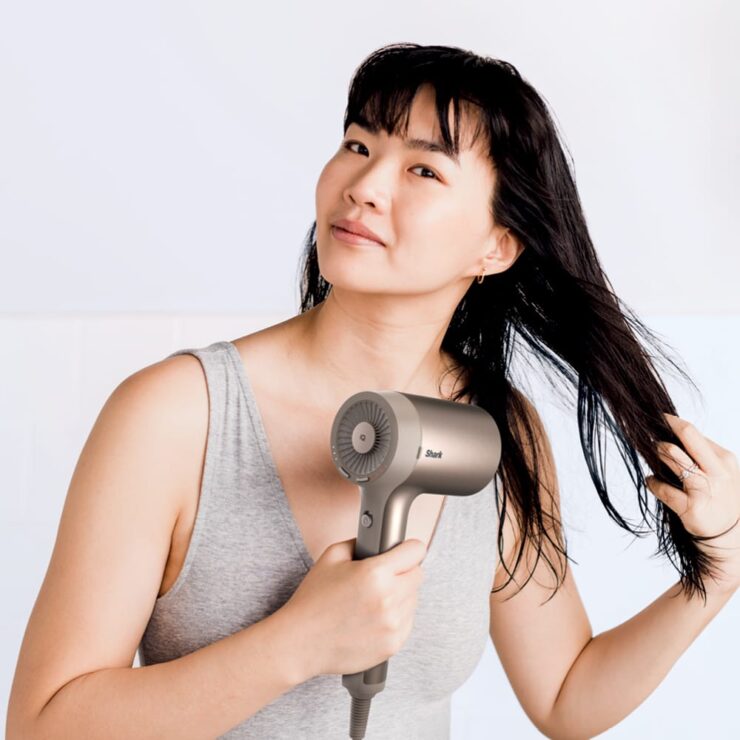 Technology giants such as Dyson and Shark have earned an excellent name for themselves in the beauty sector. With the adaptation of innovative and futuristic technology, these two brands have earned laurels for themselves in the hair care sector. By investing in a hair dryer from this brand, you can save your precious time and add the perfect bounce to your gorgeous locks.
Reasons To Opt for Shark Hair Dryer
Shark has leveraged its knowledge in airflow to build an intelligent device that pledges to dry hair rapidly with minimal heat damage. This is backed by the high-velocity, heated ionized air.
The Shark HyperAir can adjust the airflow and heat settings automatically as per your desired style. It also intuitively adjusts these settings depending on the accessory you attach.
Since the HyperAir is an ionic dryer, it dries your hair super fast and leaves it looking visibly sleeker and shinier. The dryer's technology generates negative ions that counteract the water's positive ions, hence, ensuring that the heat is evenly distributed. At the same time, it closes your hair's cuticle and retains the necessary moisture for a smoother look.
The Shark hair dryer is an excellent choice for you if you have frizzy hair or a curly hairstyle. If you do not have access to a mirror next to the power outlet, you need not panic or worry. The good news is that you can still operate the Shark Hair Dryer as the length of its power cord is 2.5 meters long.
Reasons To Opt for Dyson Hair Dryer
The Dyson Supersonic Hair Dryer has created a buzz in the hair care sector. With embedded smart technology, this hair care tool can seamlessly dry your hair in a matter of just a few minutes.
It is mainly possible due to the presence of a brushless digital motor. Interestingly, this motor is significantly lighter and smaller than a regular hair dryer motor. If you are in search of a hair dryer that not only provides your hair with absolute smoothness but additionally gets rid of flyaways and strands, the Dyson Supersonic dryer is your go-to device. It is best suited for those with a long hairstyle.
The Dyson Supersonic has an intelligent heat control that protects your hair from severe damage caused by extreme heat, thus safeguarding your hair's natural shine. The remarkable heat shield technology helps the surfaces of the attachments to remain cool.
Common Characteristics Between Shark Hair Dryer Vs Dyson Hair Dryer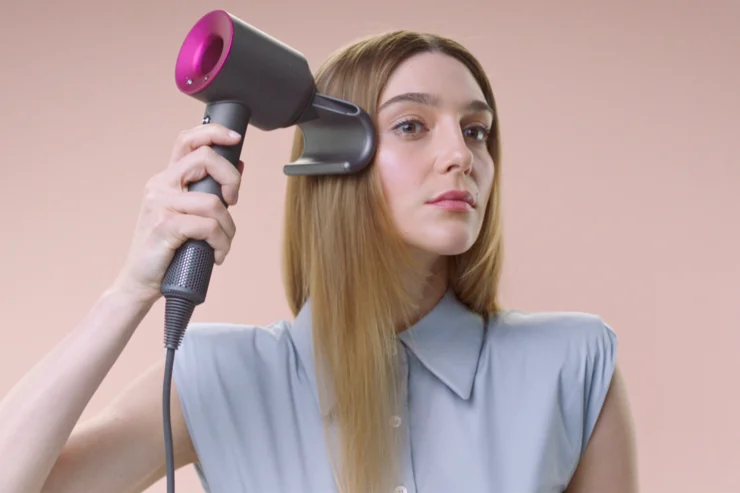 With a few velocity set-ups, both the Shark and Dyson hair dryers come with three temperature settings. Additionally, both hair appliances have buttons on the back of the barrel to control the settings.
Interestingly, both of the hair dryers consume 1600W of electric power. Moreover, each of them takes approximately less than four minutes to perfectly dry shoulder-length damp hair. At the end of the day, both these high-end brands will help you gain shining and smooth hair, which appears healthier with every use.
Difference Between Shark Hair Dryer Vs Dyson Hair Dryer
The Shark Hair Dryer is a classic hair dryer with a broad barrel and an angled grip. Sadly, this appliance does not have a removable filter. On the other hand, the Dyson machine has a more aesthetic appearance. With the presence of a filter, the dryer has a shorter barrel in addition to a handle at the center.
With a sound generation of 74db on the decibel meter, the Dyson Supersonic is slightly quieter to use compared to the 76db produced by Shark HyperAir. Compared to the Dyson Hair Dryer, the diffuser of the Shark Hair Dryer incorporates extending prongs to ensure that the roots and the tips of curly hair are uniformly dried, thus reducing heat damage to your hair.
Conclusion
Choosing between the hair drying brands is a personal choice. Both the Shark Hair Dryer and Dyson Hair Dryer are capable of drying your wet/damp hair quickly, leaving it healthy and radiant.
If you have curly hair or are unaware of the settings while blow-drying your hair, you should prioritize Shark over Dyson Hair Dryer. The Dyson Supersonic Hair Dryer should be the perfect preference for those individuals who want to create and try varied hairdos as the device comprises many unique attachments.
FAQs

Which among the two will leave your hair frizzer?
Both the hair dryers undoubtedly provide a phenomenal blow-dry end-result at home. The performance is due to their exceptional ionized air technology which leaves your hair healthy and less frizzy.
Which among the two has better performance delivery?
Both the Shark and Dyson Hair Dryers are high-quality hair styling tools. Both of the dryers have minimum hair drying time with less heat damage to your precious hair. You can choose one based on your budget and hair type.
Which among the two is a user friendly dryer?
Both the hair dryers consist of three temperature settings and three speed settings. There are knobs to easily operate them.